Advertisement.
MONSTER JAM is revving it's way up to Downtown Los Angeles with an all-new action-packed weekend of events for the first time ever at STAPLES Center featuring the SoCal debut of the indoor arena-based Monster Jam Triple Threat Series™ that will keep motorsport fans on the edge of their seats with adrenaline-charged, high-flying, four-wheel excitement that is fun for the entire family! Unlike any other Monster Jam event seen in SoCal before, the Monster Jam Triple Threat Series features eight of the most intense Monster Jam athletes in a fierce battle for the championship that tests the versatility and endurance of the athletes as they go head-to-head in a points-based format with seven different competitions driving three customized high-powered vehicles: the larger-than-life 12,000 lb. Monster Jam trucks, Monster Jam Speedsters and Monster Jam ATVs. These extreme athletes battle for points in challenging Racing and Freestyle events that push themselves and their machines to the limit – delivering what fans want to see the most… more trucks, more racing, more freestyle, more donuts, more wheelies, more action!


Monster Jam Triple Threat Series world-class athletes vying to become champions will be:
Grave Digger® driven by Brandon Vinson
Max-D® driven by Jared Eichelberger
El Toro Loco® driven by Mark List
Megalodon driven by Travis Groth
Zombie™ driven by Tyler Groth
Wonder Woman driven by Collette Davis
Pirate's Curse™* driven by 2017 "Rookie of the Year" Camden Murphy
Alien Invasion driven by Bernard Lyght
Monster Jam Triple Threat Series
STAPLES Center
1111 S. Figueroa Blvd,
Los Angeles, CA
www.monsterjam.com
Friday, August 17, 2018
➢ Event Time – 7:30 PM
Saturday, August 18, 2018
➢ Event Times – 1:00 PM & 7:00 PM
Sunday, August 19, 2018
➢ Event Times – 1:00 PM & 7:00 PM
Tickets start at just $25 each* and can be purchased online at AXS.com, charge by phone at 888-9AXS-TIX or visit the venue Box Office. *ticket prices subject to change – additional venue/ticketing fees may apply. Children age 2 and older require a ticket.  A child under the age of 2 is considered a lap child and does not require a ticket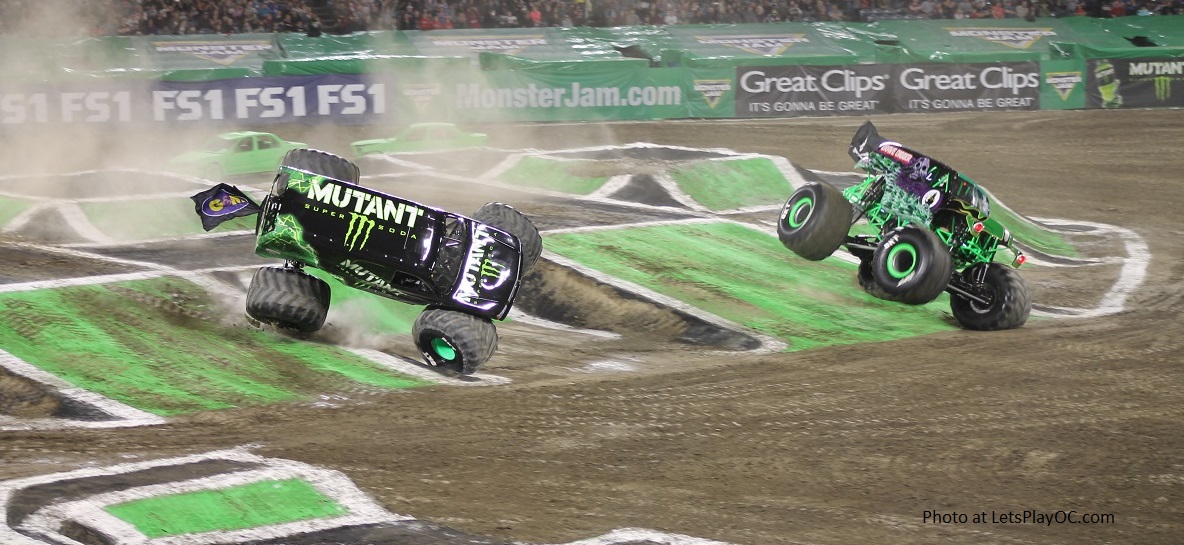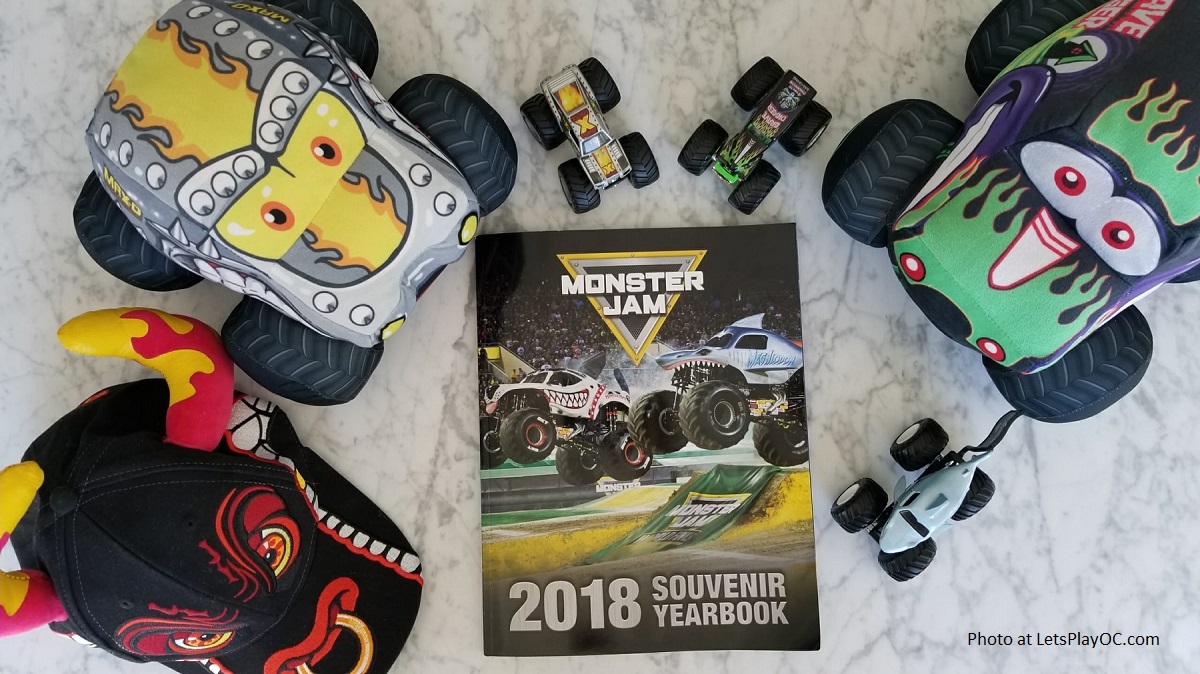 My TIPS: 
If you want to meet the trucks and drivers, check their website to see if they offer Pit Parties or local Meet-and-Greets. (Photo below was from two years ago when Max-D was at a Jiffy Lube in Orange.) I also recommend bringing something to protect your ears. Bring noise cancelling headphones or earplugs. I found some very inexpensive noise reduction earmuffs for the children at Harbor Freight in the safety section for $2.99. They have other options available too. We didn't have any problems bringing in our DSLR's but you'll need a zoom lens to capture close-ups of cars in the air. Closer is not always better. We have had seats on both lower and upper levels, we have fun every time, but you can't see the whole track when you are on the lower levels. They do not have the same trucks at every event. Check out the line-up beforehand especially if you want to see your favorites.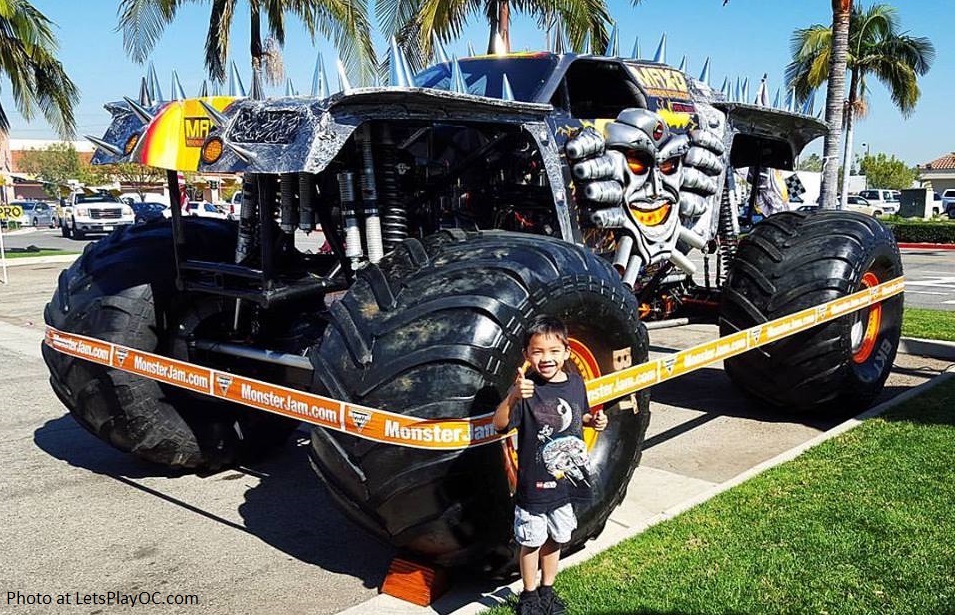 Driver Safety
You might be wondering about the safety of the drivers. The Monster Jam trucks are designed to protect the driver at all times. A specially-constructed roll cage is built to house the driver, who is often sitting directly in the middle. Specially constructed seats that mold to the driver's shape allow the work to be done with minimal distraction. A five-point harness is mounted securely to the truck to help hold the driver in position. The truck includes a receiver for a Remote Ignition Interrupter (RII). A signal can be transmitted to the truck by way of a special radio, which will shut off the engine. Each truck has a secondary on-off switch located at the rear on the frame. Other safety features are designed, built and mandated to keep the truck safe and operational. Each driver is equipped with specified safety gear, starting with the custom fitted fire resistant driving suit. The suits offer a minimum of three layers of protection. The helmet meets Snell Foundation regulations for fire-resistance while serving as part of the head-and-neck restraint system, which includes a tested and approval harness system. The drivers' hands are protected by flame-resistant gloves which have a tacky grip side for steering wheel control. The drivers' feet are protected by special fire resistant shoes that also include a thin sole for optimal throttle and brake control.
One LET'S PLAY OC! reader will win this prize. Please enter below for a chance to win!
PRIZE: Family 4-Pack to AUG 17 at 7:30 pm show!
No exchanges! Winner must be able to attend this show in Los Angeles!
US Residents Only. No purchase necessary to enter. All readers have an equal chance to win, however, you must enter to win. A winner will be randomly selected via RaffleCopter and notified via email. I will attempt to contact the winner for 3 days. If the winner cannot be reached by email, a new winner will be selected the same way. There are several different ways to earn entries. One prize per household. The winner will receive, free of charge, the prize mentioned above. This prize has no cash value and is not available for exchanges. Prizes are not transferable or refundable and must be accepted as awarded. The winner is responsible for any and all other costs and expenses not listed above. Not liable for unclaimed prizes or fulfillment.