This experience was hosted.
Summer is here! Over the holiday weekend we explored Aquatica San Diego (SeaWorld's Water Park) in Chula Vista, California. Some might think it's part of SeaWorld San Diego, but it's actually about 25 miles away and closer to Mexico's border. What's unique to Aquatica is their Flamingo and Turtle Exhibit.
Flamingo Exhibit:
More than a dozen Caribbean flamingos live at Aquatica San Diego. They're one of the first things you'll see upon entering the park and you can see them as you as your floating down Loggerhead Lane (the lazy river).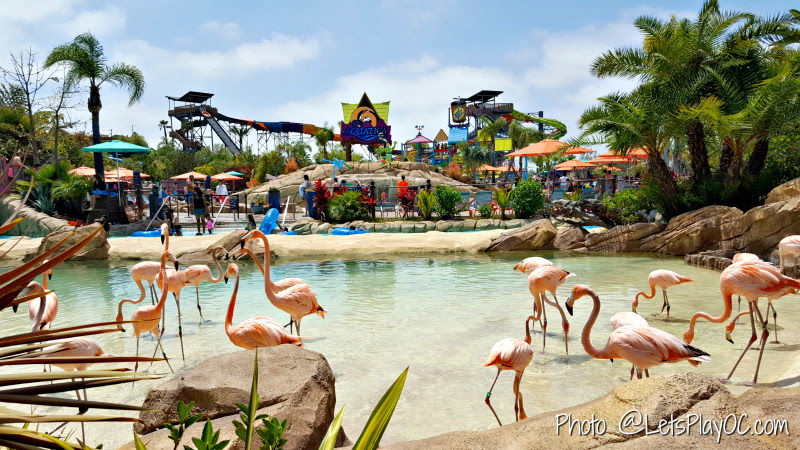 Turtle Exhibit:
There are four species of freshwater turtles at Aquatica San Diego. They're located between Big Surf Shores (the wave pool) and the food plaza. Most of the turtles are red-eared slider turtles, but there are also yellow-bellied sliders, Western Pacific pond turtles, and Mississippi map turtles.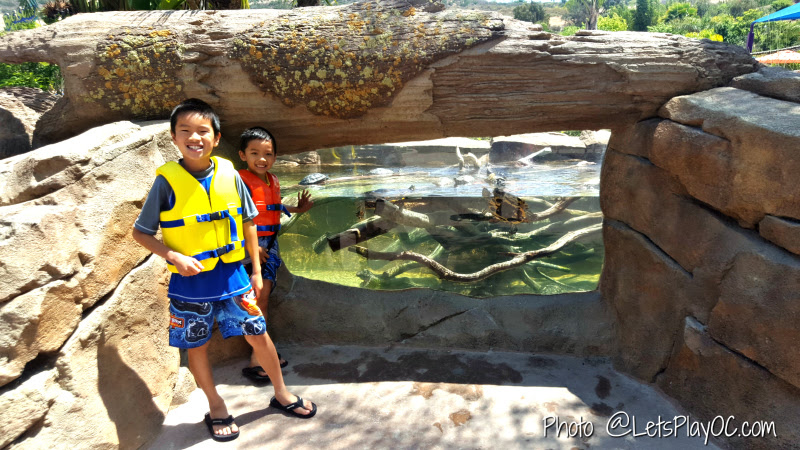 Things you'll want to know:
Admissions into the park may be suspended during the day due to periods of high attendance.
Complimentary life vests in all sizes are available.
It is recommended that those under 42 inches wear a life vest and must be accompanied by an adult.
Life vests are required at many attractions based on height.
Appropriate swim attire must be worn at all times.
Children in diapers are required to use waterproof protectors.
Complimentary rafts are provided depending on the ride.
There are a ton of open seating throughout the park. Private Cabanas are available for rent (see below for details).
There are five heated pools kept at 78 to 82 degrees: Big Surf Shores, Loggerhead Lane, Kata's Kookaburra Cove, Walkabout Waters, and Slippity Dippity.
No outside food or beverage is allowed into the park except for one water bottle per guest. See more below about their food & beverage policy. 
If you forget anything, they have gift shops that carry many items you may need for your water enjoyment. They even carry waterproof phone covers.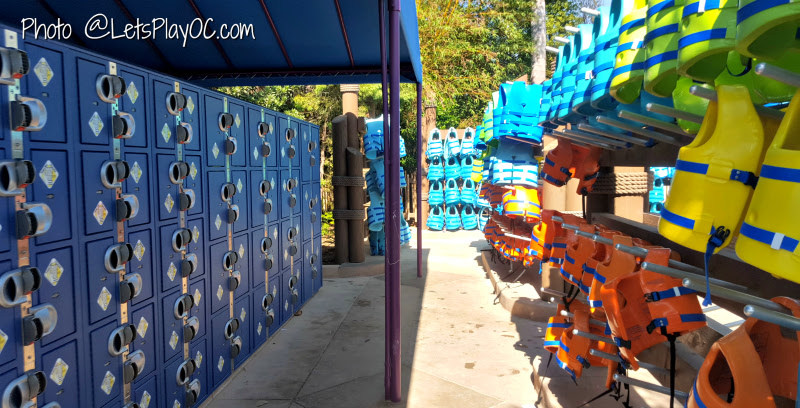 Quick Queue:
Don't like to wait? You can get priority boarding at Walhalla Wave, Whanau Way, Tassie's Twister and Woohoo Falls with Quick Queue!
Cashless Wristbands:
No longer do you need to worry about your wallet getting wet or losing your cash or credit cards on one of the rides, because at Aquatica, they have Cashless Wristbands. Lock everything up in your locker and make food or gift shop purchases by scanning your waterproof wristband. You can get your wristband for free at any ticket window, Cabana check-in or locker rental. You can deposit cash or link it up to a credit card. There are no fees for using this service, and your account automatically settles at the end of the day.
Private Cabanas & Loungers:
Resort-style amenities including a welcome basket, mini-fridge, bottle water, an attendant and WiFi access. The loungers overlook Loggerhead Lane and come with a pool safe, two chairs, and umbrella. Reserve it at Tickets and Reservations.
Lockers:
All-day electronic and key-less locker rentals are available near the park entrance. There are three sizes to choose from: Standard ($12), Large ($15), and Jumbo ($20). I rented out the Large one, and it fit two large totes filled with our change of clothes and our towels.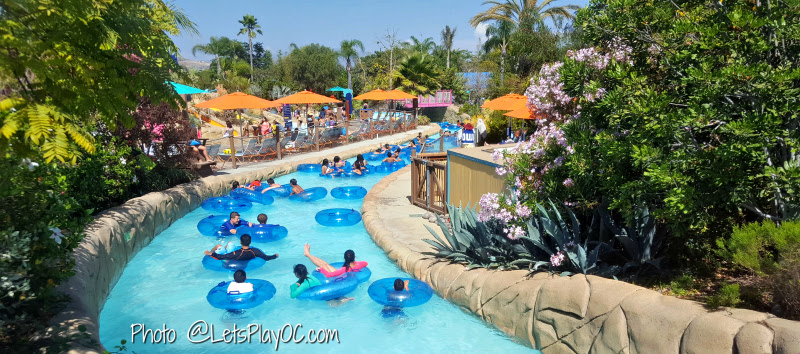 My family had a great day at Aquatica. Fortunately, it wasn't extremely crowded when we were there, but I can imagine it will be really packed this summer. At this age, my children love water attractions but they do not seem interested in rides. Their favorite is the wave pool, the spray pads, and the lazy river. I like the tubing rides and the open slides. It's all good fun. I would recommend keeping your slippers with you because the cement will be hot. Kick them off in a non-traffic area or put them on your lap when your ride. The animal exhibits are cool but I wish there were more animals to visit. The attractions are in a loop (see map below) so you can start your way on one end and work your way around the whole park. Is there a great tip for waterparks you'd like to add? I'd love to hear it.
Enjoy!
Mary
Aquatica San Diego by SeaWorld
2052 Entertainment CircleChula Vista, CA(800) 257-4268
aquaticabyseaworld.com/en/sandiego/
2016 ADMISSIONS:
Single-Day ticket is $44 for guests ages 10 and older; $38 for ages 3–9; free for guests 2 years old and younger. All slides, rides, pools and beach areas are included with admission. Food, merchandise, cabanas and lockers are optional and available at an additional cost. Park capacity is limited.
PROMOTIONAL OFFERS:
Aquatica Splash Pass: Pay for one day and get the rest of 2016 free. ($38 and $44) Limited quantities available. Does not include parking.
Aquatica 2016 Season Pass: Unlimited admission for the entire season, free parking and in-park discounts. ($89 for ages 3 and older.)
Pass Memberships for both SeaWorld San Diego and Aquatica: Starting at $179 includes unlimited admissions to both parks, free parking, and in-park discounts.
PARKING: 
$15 for cars
$20 for RVs and campers
$10 for Motorcycles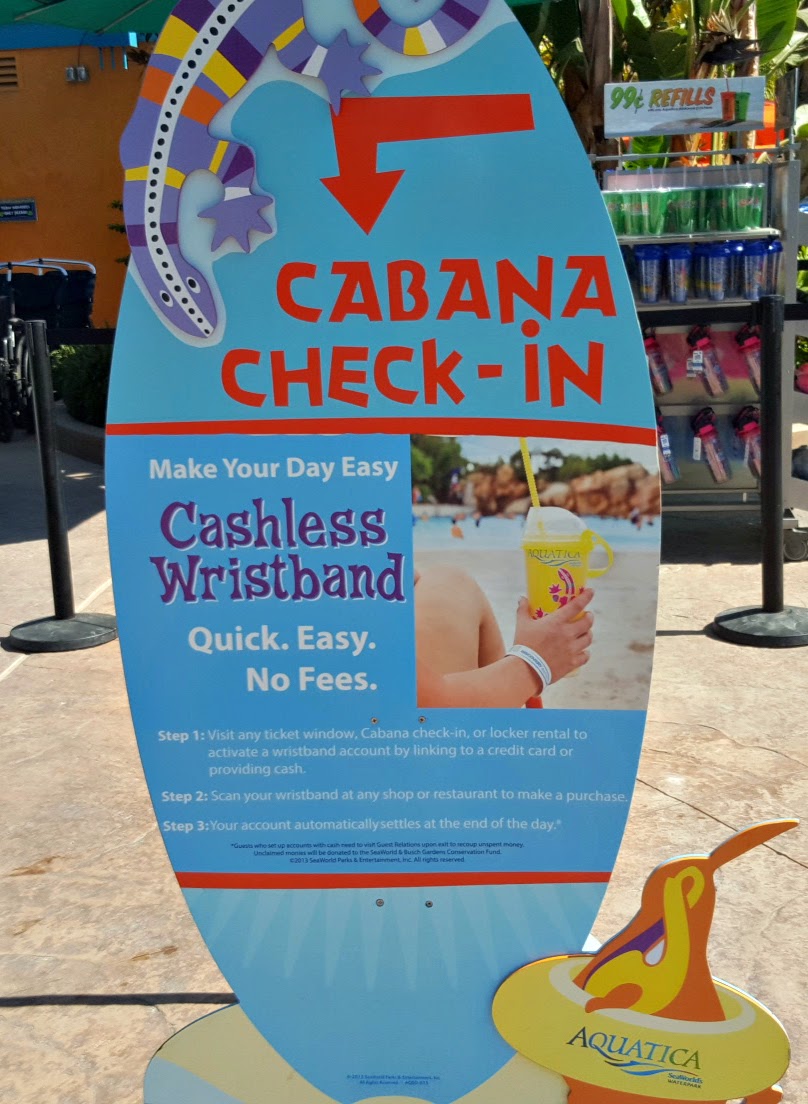 Aquatica San Diego Water Park Map
(click to enlarge)