What child doesn't love bubbles? Adults still like them too. Just in time for Spring Break, BUBBLEFEST is back in Orange County, and they're celebrating all-things-bubbles now through Sunday, April 8th at the Discovery Cube OC. Families can roll around in water spheres, take a family photo being inside a bubble, learn the science of bubbles in the Bubble Lab, watch an exciting performance of the Mega Bubblefest Laser Show performed by Deni Yang, and more! There's even a Cube Jr. Playground area for the littles. It is an exciting way to enjoy bubbles for all ages!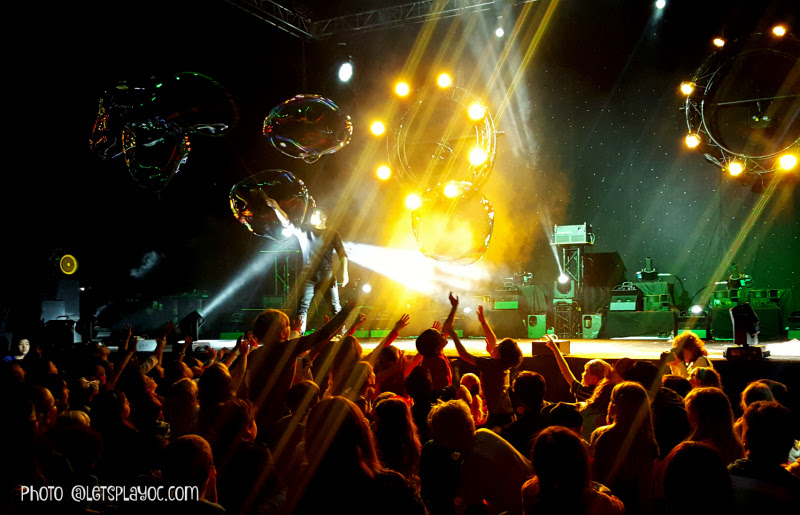 Activities Included:
Mega Bubblefest Laser Show
Large inflatable water sphere
Bubble Lab
Mega Bubbles Courtyard
Mega Bubblefest Laser Show
One of the first things on our agenda was the Mega BubbleFest Laser Show. The show never gets old. We have seen the show three times, and it's still fun to watch. Bubble Artist, Deni Yang, has been doing it for over 20 years along with his family, and they even hold the Guinness Book of World Record for longest soap bubble wall. Deni has earned an impressive Guinness World Record for producing the largest bubble measuring over 170 feet!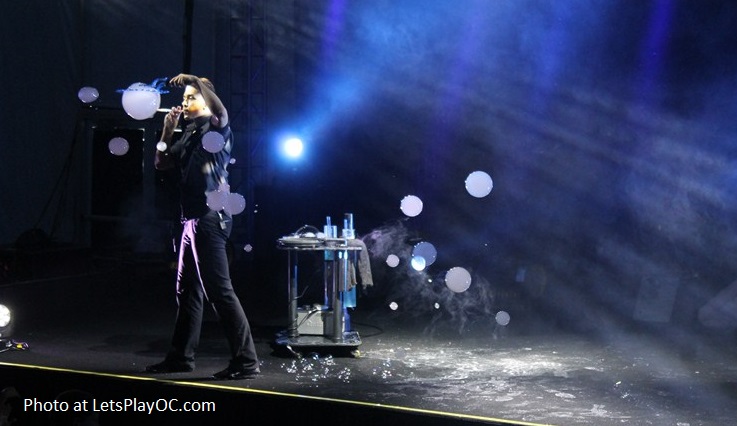 The Mega Bubblefest Laser Show is performed inside the Julianne Argyros Showcase Theater! The 10,000 square-foot space is first-of-its-kind in the museum world, seats 500, and was designed with Bubblefest in mind. Deni does a great job captivating everyone in the audience especially the little ones. Deni used different tools to create bubbles including his hands. You'll see Deni Yang blow smoke bubbles (bubbles with smoke inside them), bubbles within bubbles, bend bubbles, spin bubbles, create bubble art, make a cube inside a bubble, put two children in a large bubble, dance with lasers, and more! The Snow Story about his niece is super cute. We enjoyed seeing it all with an upbeat music.Toward the end of the show, we were all caught in a flurry of bubbles and we were laughing to so hard because we couldn't see. It lasted several minutes.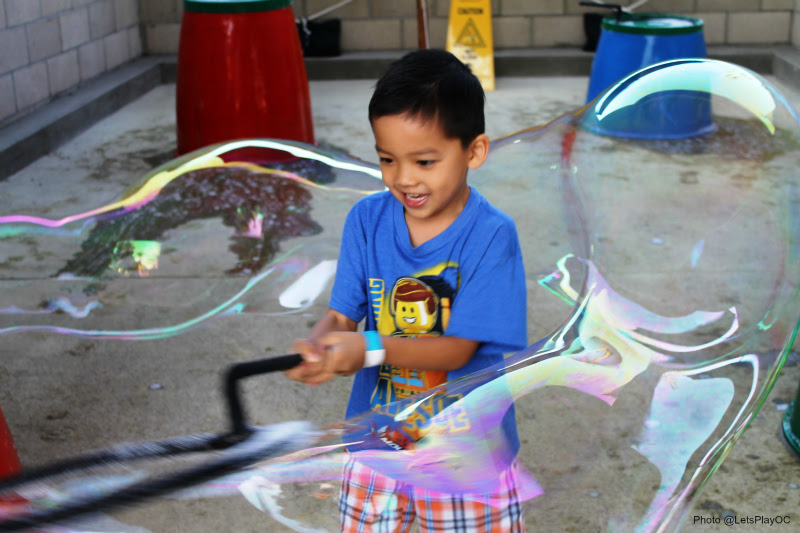 It was fun day of exploring the magic of bubbles at Discovery Cube Orange County! Bubble wands, The Bubble Rollers, the Laser Show, and the Bubble Wall – Who knew there were so many different ways to enjoy bubbles? My kids especially enjoyed the laser show, bubble wall, rolling around in the water spheres, racing through the obstacle challenge, and playing with bubble wands in the courtyard. My favorites are the laser show and the Me-in-a-Bubble photo. Please note that general admissions is required with Bubblefest tickets. Plan to arrive early because there is a lot to do.
BUBBLEFEST 2018
March 24th through April 8, 2018
Discovery Cube OC
2500 N. Main Street
Santa Ana, CA
(714) 542-2823
www.discoverycube.org/oc/
*NOTE: General admission ticket & Bubblefest ticket are required to access Bubblefest. Children 2 & under do not need a Bubblefest ticket if they lap sit during the Mega Bubblefest Laser Show. Any child that requires their own seat must have a Bubblefest ticket. Tickets can be purchased online. 
General Admissions*: Adult (ages 15+) $17.95, Child(ages 3-14) $12.95, Seniors (ages 62+) $14.95
Bubblefest Admissions: $10.00 (Requires General Admission)
Bubblefest VIP Admissions: $15.00 (Requires General Admission) Upgrade to VIP Bubblefest admission for early entry and preferred seating during the Mega Bubblefest Laser Show.
The Mega Bubblefest Laser Show runs 4 times a day, 11:00 a.m., 12:30 p.m., 2:00 p.m., and 3:30 p.m.