LUNAR NEW YEAR is one of the most celebrated holidays among Asian cultures. Each country will observe it slightly different but they all commemorate with loved ones to wish each other good fortune and prosperity for the new year. Did you know that Disneyland celebrates it as well, but they added their own Disney magic to it. This year they are celebrating for 24 days from January 26th through February 18th over at Disney California Adventure Park! It's their biggest Lunar New Year celebration yet! We were there for opening day previewing their menu and watched some of the shows. This year for Year of the Dog, Pluto is the star of the show of course! He's been waiting for the last 12 years for it to come around again. Other characters are also dressed for the occasion – Mickey Mouse, Minnie Mouse, Mulan, Mushu, and Chip 'n Dale. Surprise guest, Goofy, will be dressed in his "God of Good Fortune" attire in "Mulan's Lunar New Year Procession." You'll be able to experience Asian culture through carefully selected food, music, and entertainment. I love what Disneyland did this year to highlight the different cultures!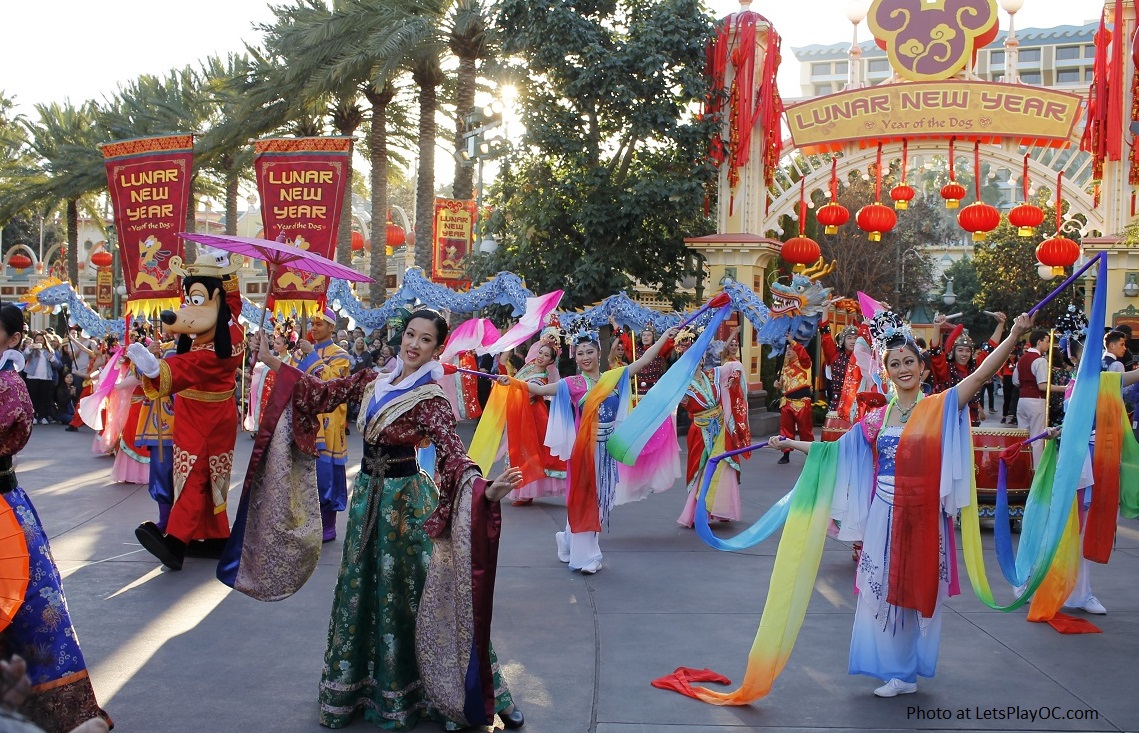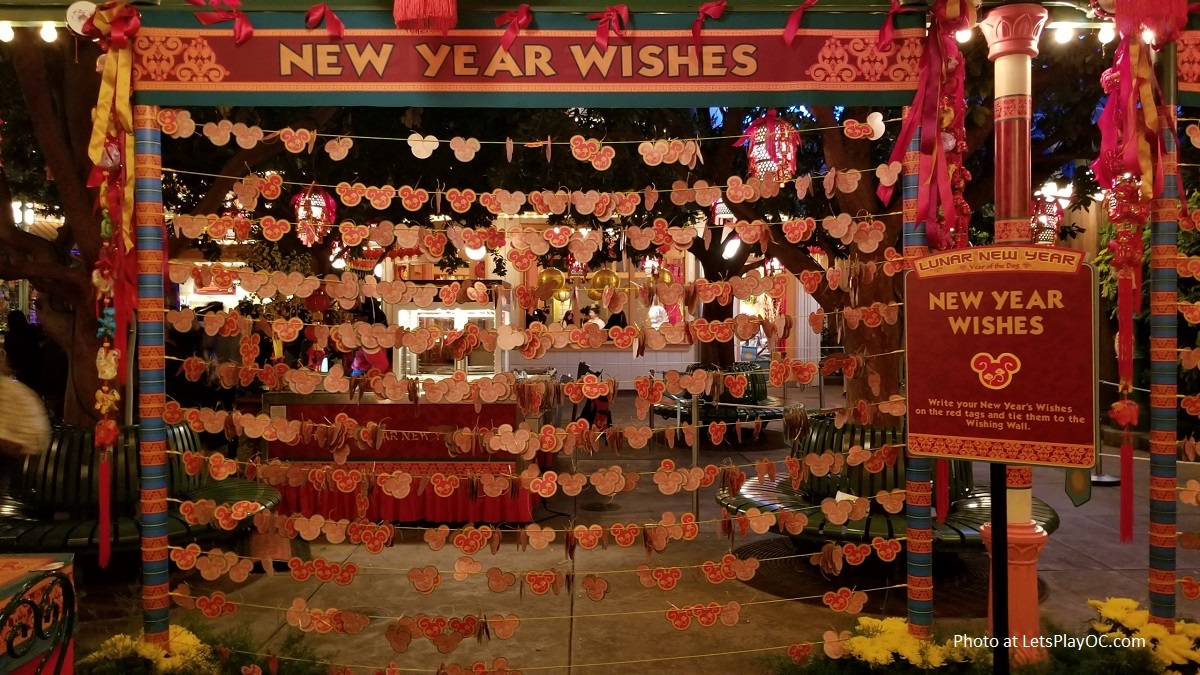 ENTERTAINMENT
The LUNAR celebration extends all the way down to Paradise Gardens Grill with beautiful decorations, characters dressed in beautiful costumes, live performances, complimentary face painting, lantern making, lucky wishing wall, Chinese calligraphy with the Cerritios Chinese School, and there is a special feature before "World of Color" nightly weather permitting. Other performers include Korean drummers, Vietnamese hat dancers, Vietnamese flower dancers, and Korean fan dancers. Here is where you will find them but you will want to refer to the daily Entertainment Guide found at the gate entrance for the most updated information.
"Hurry Home – Lunar New Year" (Paradise Park): The six-minute feature is shown nightly before "World of Color". It tells the story of Little Lantern making it's long journey home for Lunar New Year to celebrate with his family. Little Lantern encounters three "dream sequences," featuring appearances by Mulan and the dragon Mushu. The story is scored with music created for the opening ceremony of Shanghai Disney Resort by Academy Award- winning composer Tan Dun ("Crouching Tiger, Hidden Dragon").
GuGu Drum Group (Paradise Park): Troupe of drummers, storytellers and athletes from Shanghai who perform authentic movements and ancient percussive rhythms to bring timeless Chinese proverbs, fables and fairy tales to life. Filled with historical and cultural significance, Guests can enjoy the carefully synchronized ancient movements and percussive drum rhythms while celebrating the start of a brand-new year!
Mulan's Lunar New Year Procession (Performance Corridor): Mulan and her dragon friend, Mushu, welcomes the Year of the Dog with a colorful and exciting procession of beautiful Chinese umbrella dancers and other delightful performers who arrive to music from Disney's beloved animated film "Mulan." My favorite!
Musician Dat Nguyen (Friday and Monday at Paradise Garden Bandstand): Vietnamese concert guitarist, composer and teacher, Dat Nguyen, plays traditional and original compositions on a variety of instruments—from classical guitar to lute, flute and melodica. An accomplished musician who's recorded 3 albums and rocked out with Stevie Wonder, Dat's journey to worldwide success defines awe-inspiring!
Musician Luna Lee (Sat, Sun, Tues to Thurs at Paradise Garden Bandstand): Introducing global audiences to the unique sounds of the gayageum (an ancient Korean stringed instrument similar to the zither), Luna Lee transcends the traditional realm by incorporating contemporary genres that include blues, rock and pop.
Meet Disney Friends (Paradise Gardens): Daily 11 am to 5 pm. Encounters with God of Good Fortune Goofy, Pluto, Mickey, Minnie, Chip 'n Dale, Mulan and Mushu all dressed in their Lunar New Year attire, and more.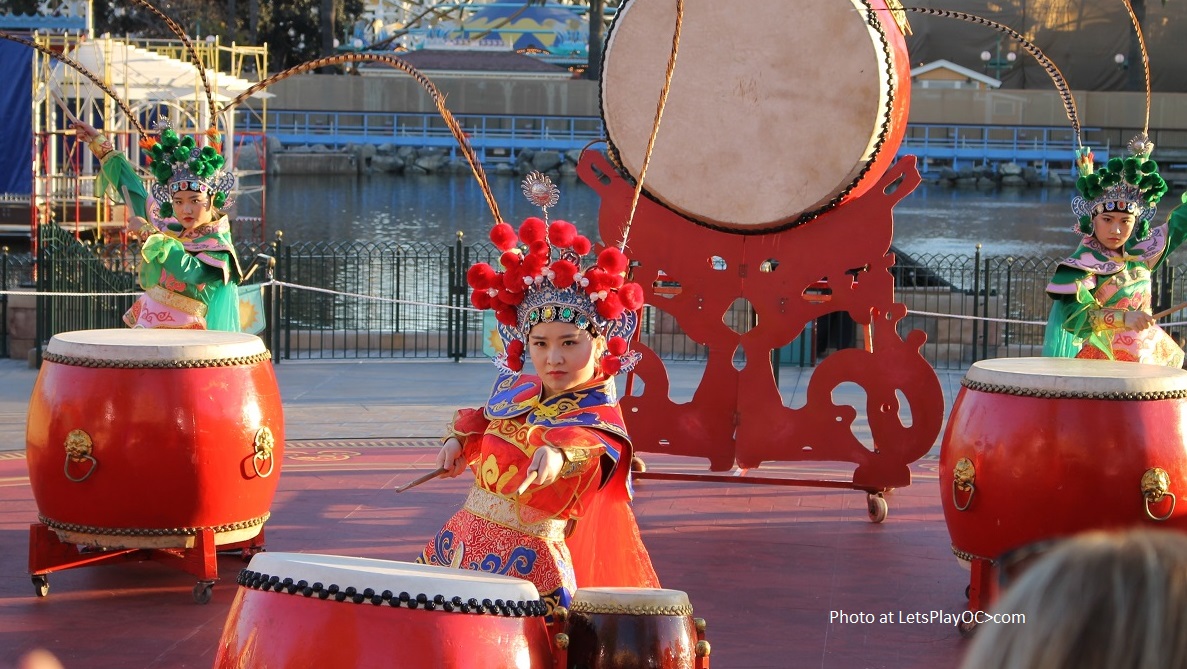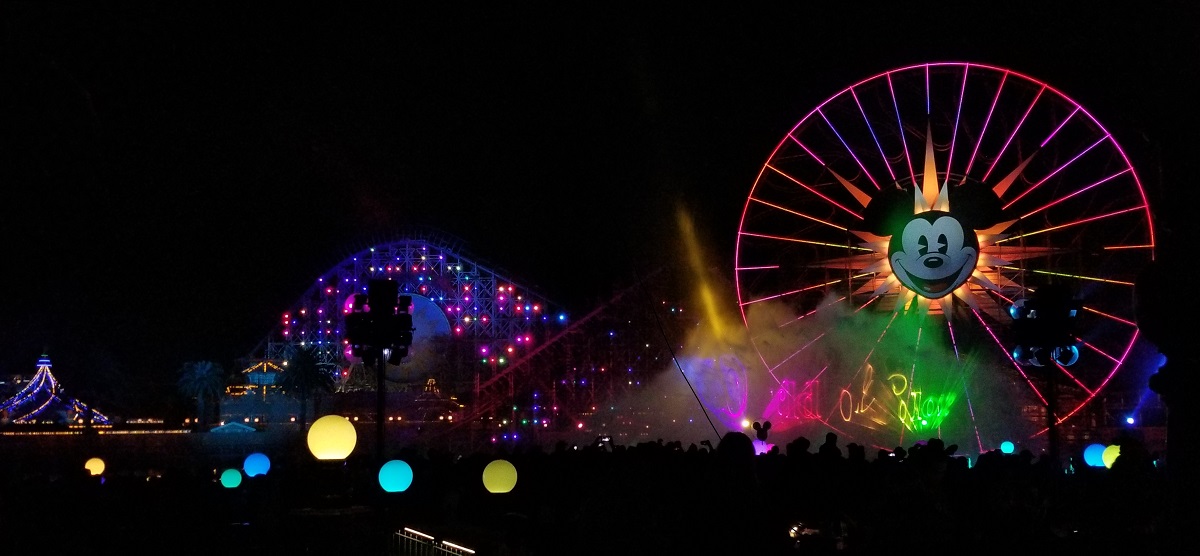 DINING OPTIONS!
Featuring cuisines from China, Vietnam, and Korea. I thought that they did an excellent job offering the traditional dishes important to each culture. The Executive Chef said that the cast members played a huge part in coming up with the menu, and they do a lot of research to pick dishes that will appeal to everyone. Here is where you will find them all. Look for three Asian marketplaces from each country between The Little Mermaid and Goofy's Sky School. The celebration extends all the way down to Paradise Garden Grill!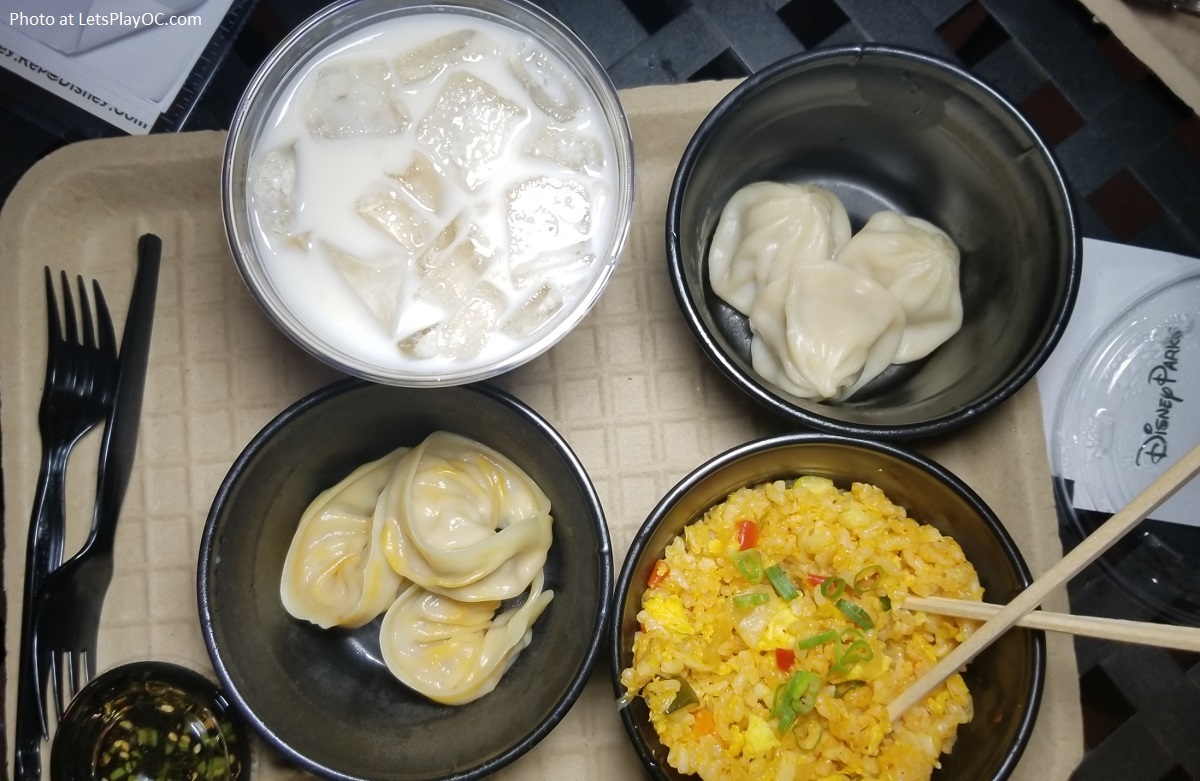 Korean Marketplace
Kimchi Bokkeumbap (Kimchi-Vegetable Fried Rice) $6
Yachae Mandu (Steamed Vegetable Dumplings) with Sesame-Garlic Soy Sauce $6.50
Yang Gaeng (Sweet Red Bean and Raspberry Jelly) $4.50
Beverages include Banana OoYu (Milk), Mae Shil Ju (Plum Wine Cocktail with Rose Petal garnish), Hite Pale Lager, Bottled Water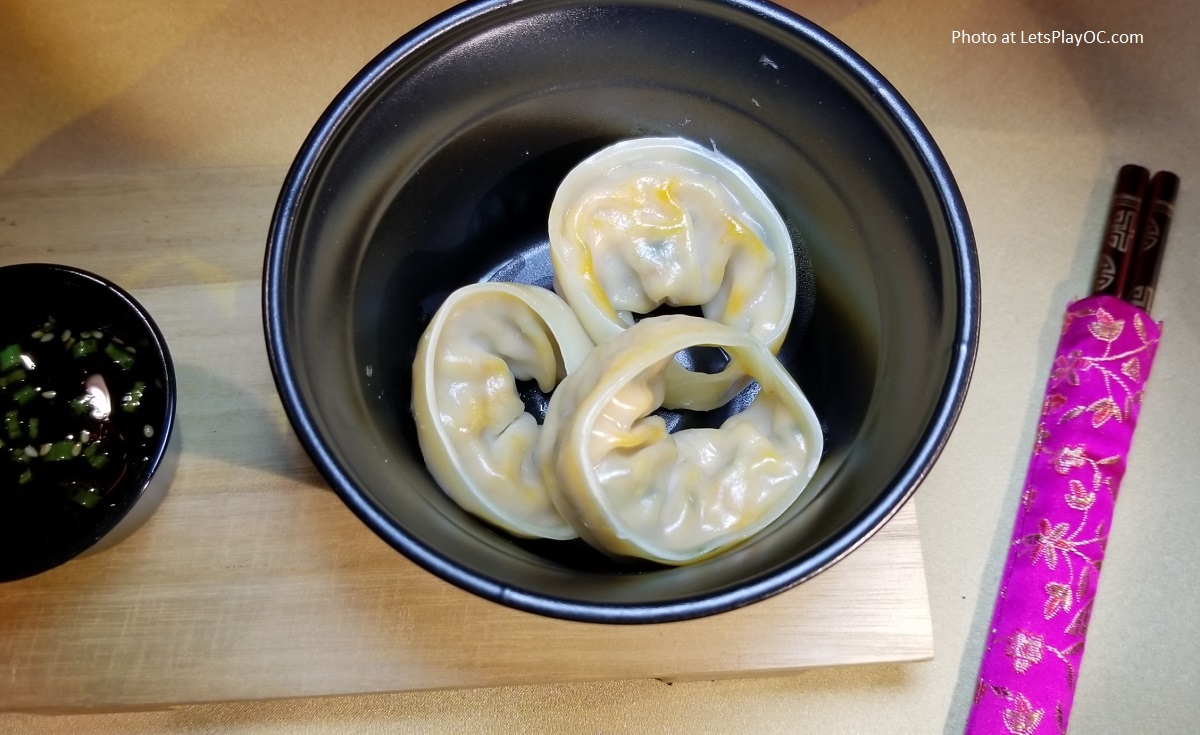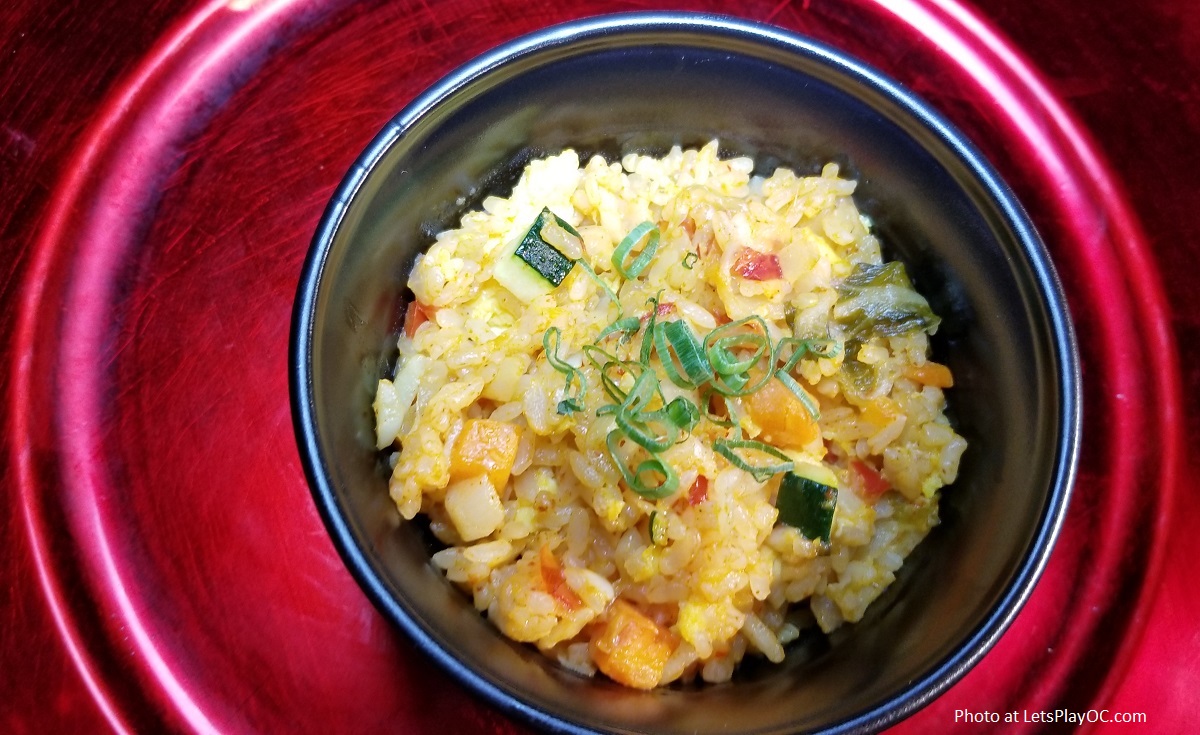 Vietnamese Marketplace
Banh Chung (Sticky Rice Cake with Pork) – $6.50
Chao Tom (Sugar Cane Shrimp Skewer) – $7.00
Banh Khoai Lang Tim (Purple Sweet Potato Macaron) – $5.25
Beverages include Ca Phe Sua Da (Vietnamese Iced Coffee) and Bottled Water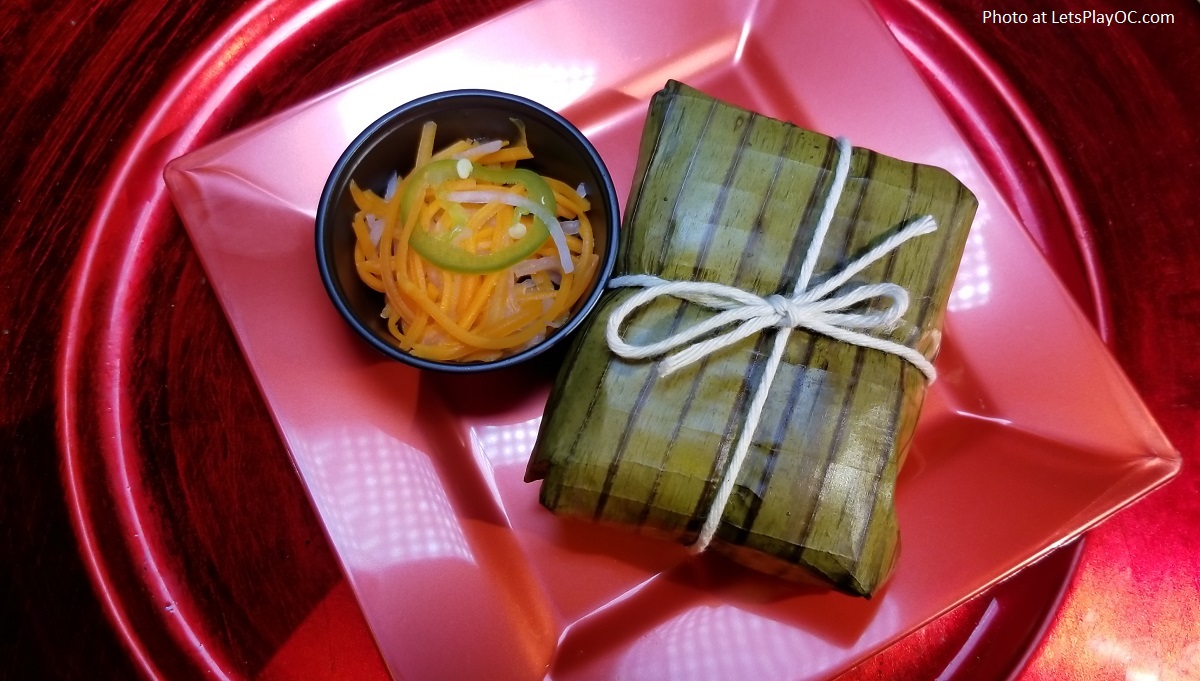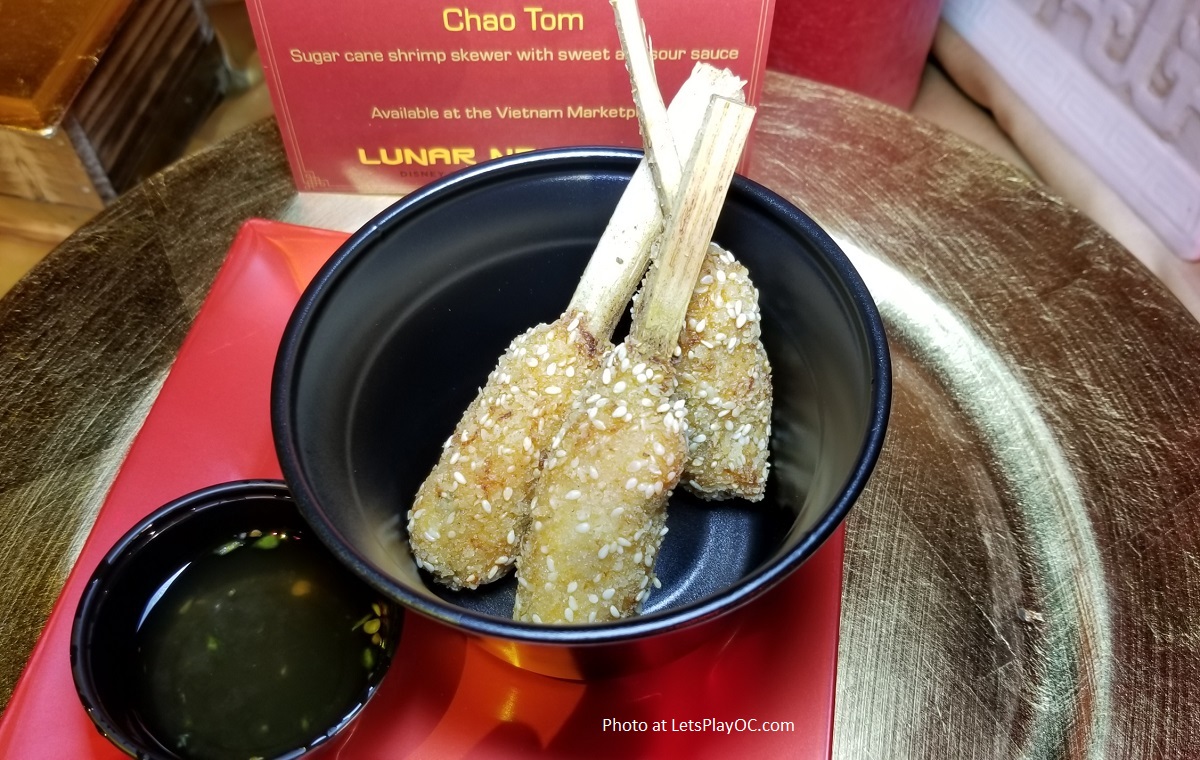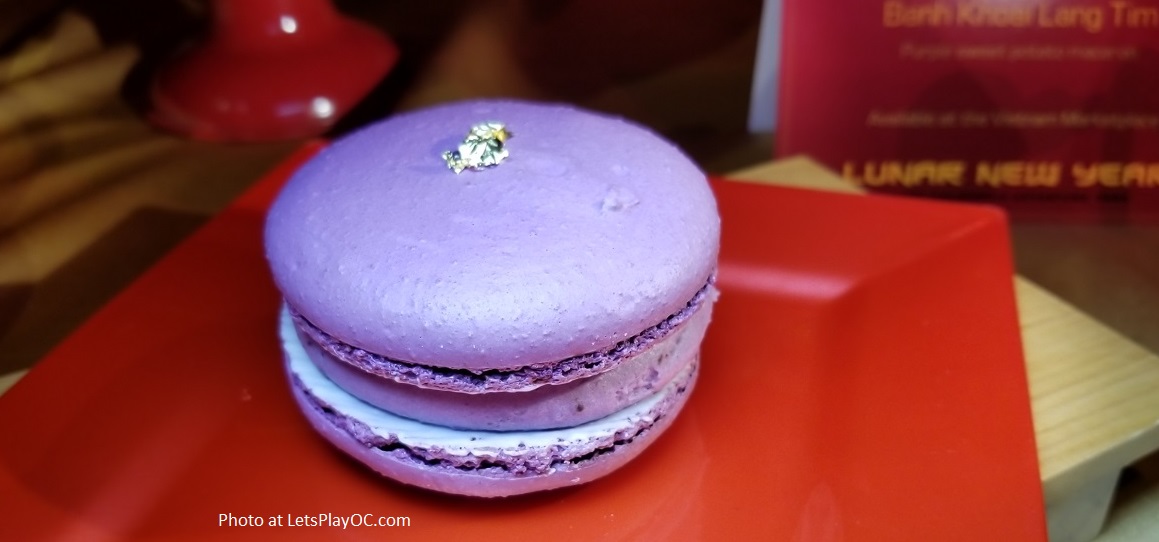 Chinese Marketplace
Xiao Long Bao (Pork Soup Dumplings) with black vinegar and ginger – $7.00
Sanbeiji (Three Cup Chicken) – $6.75
Dan Ta (Egg Tart) – $4.25
Wuxiang Huasheng Tang (Five Spice Peanut Brittle) – $4.50
Beverages include Baixiangguo Lucha (Passion Fruit Green Iced Tea with Lychee Popping Pearls (non-alchoholic), Tsingtao Lager, and Bottled Water.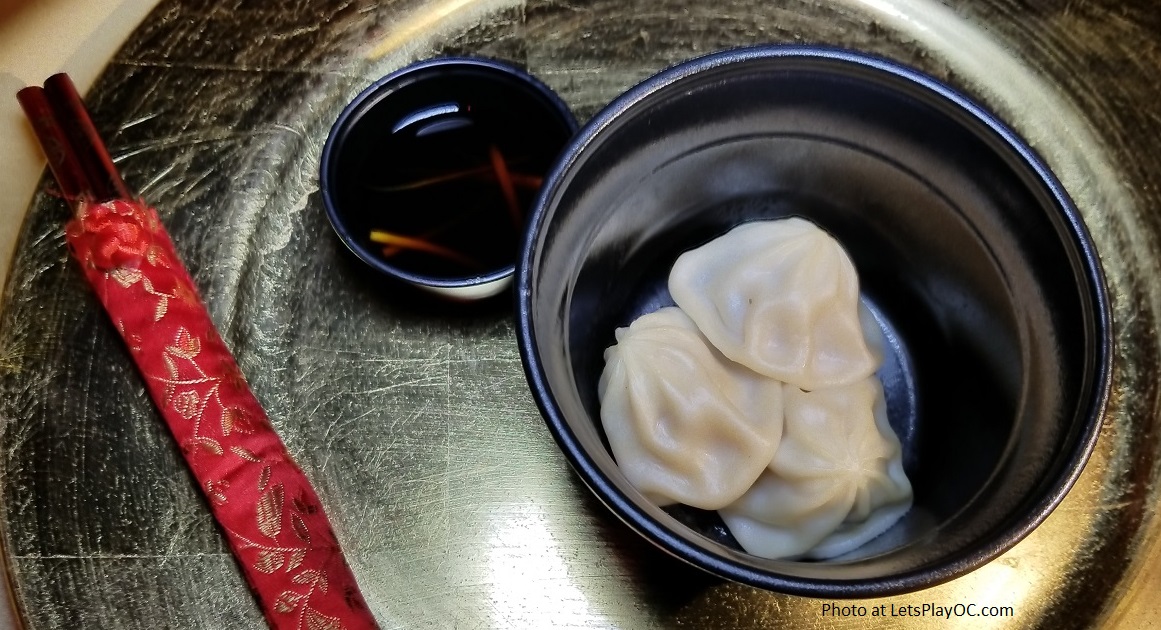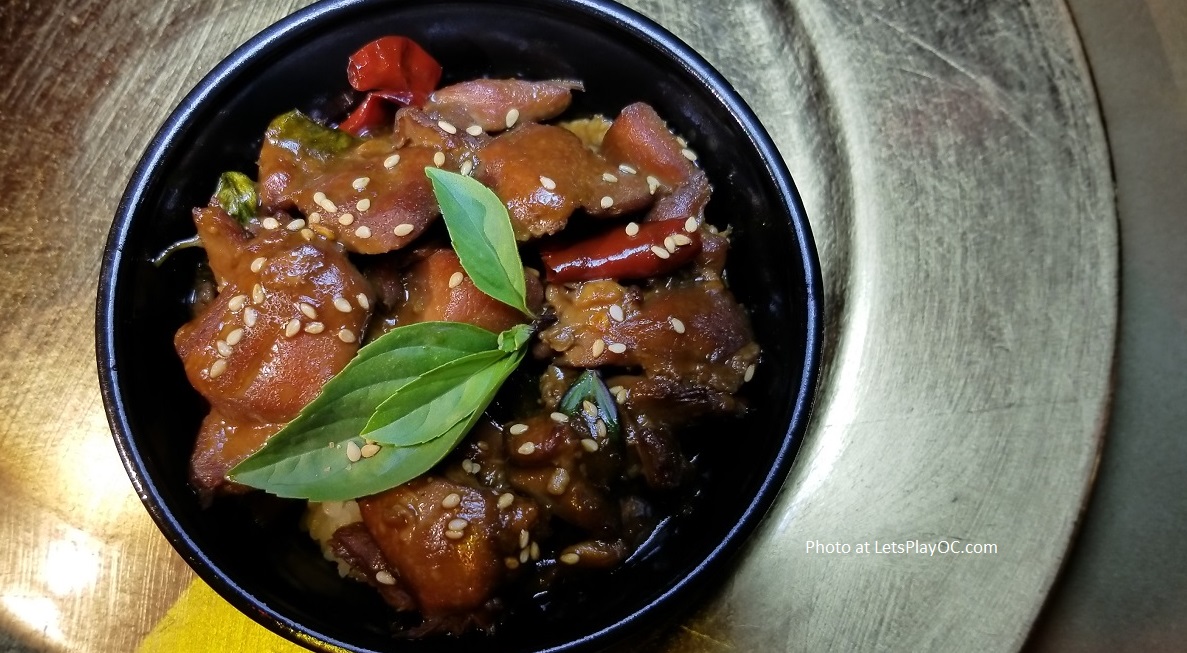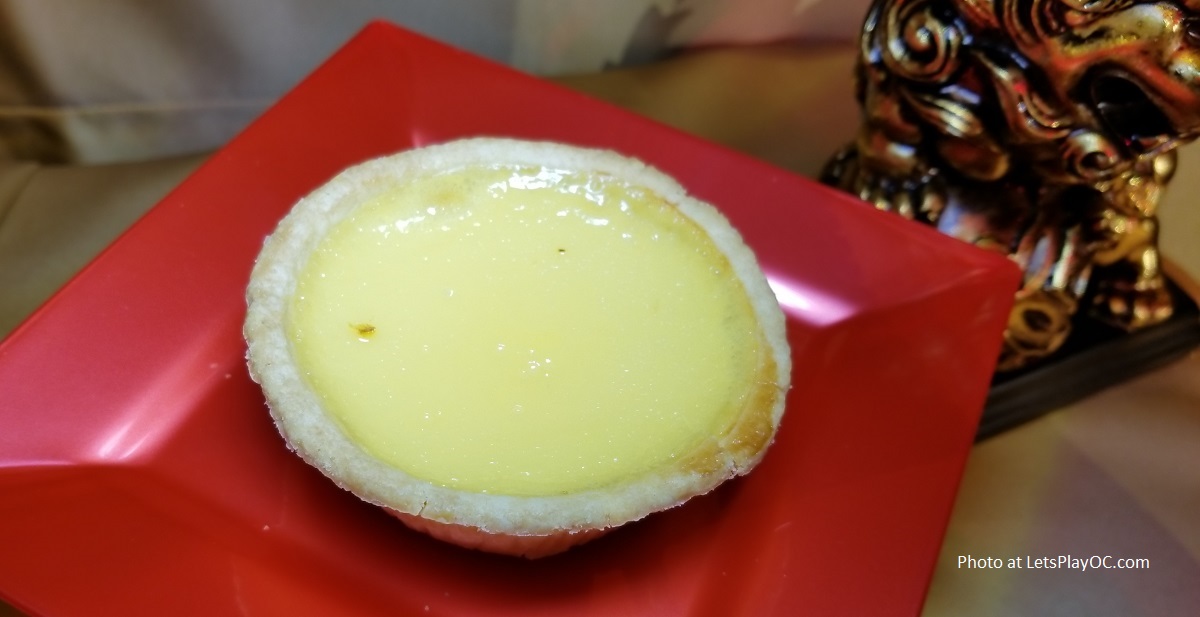 Paradise Gardens Grill
Additional LUNAR NEW YEAR offerings can be found at Paradise Gardens Grill like Vegetable Japchae (stir fried vegetable noodles), Galbi Beef Short Ribs with steamed rice and kimchi, Whole Crispy Tilapia with citrus chili vinaigrette served family-style with other side dishes, Beef Pho Noodle Soup, Banh Mi Thit Nuong (Marinated Pork Belly Sandwich) with pickled carrots and daikons served on a baguette, and Mango Pudding.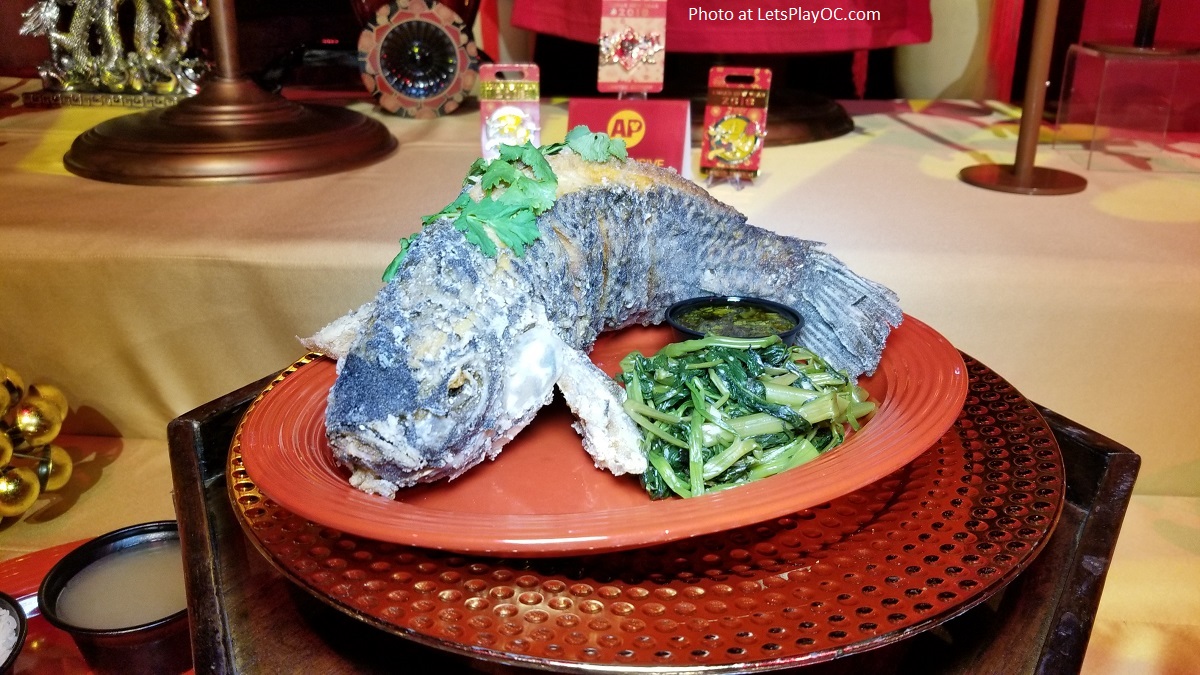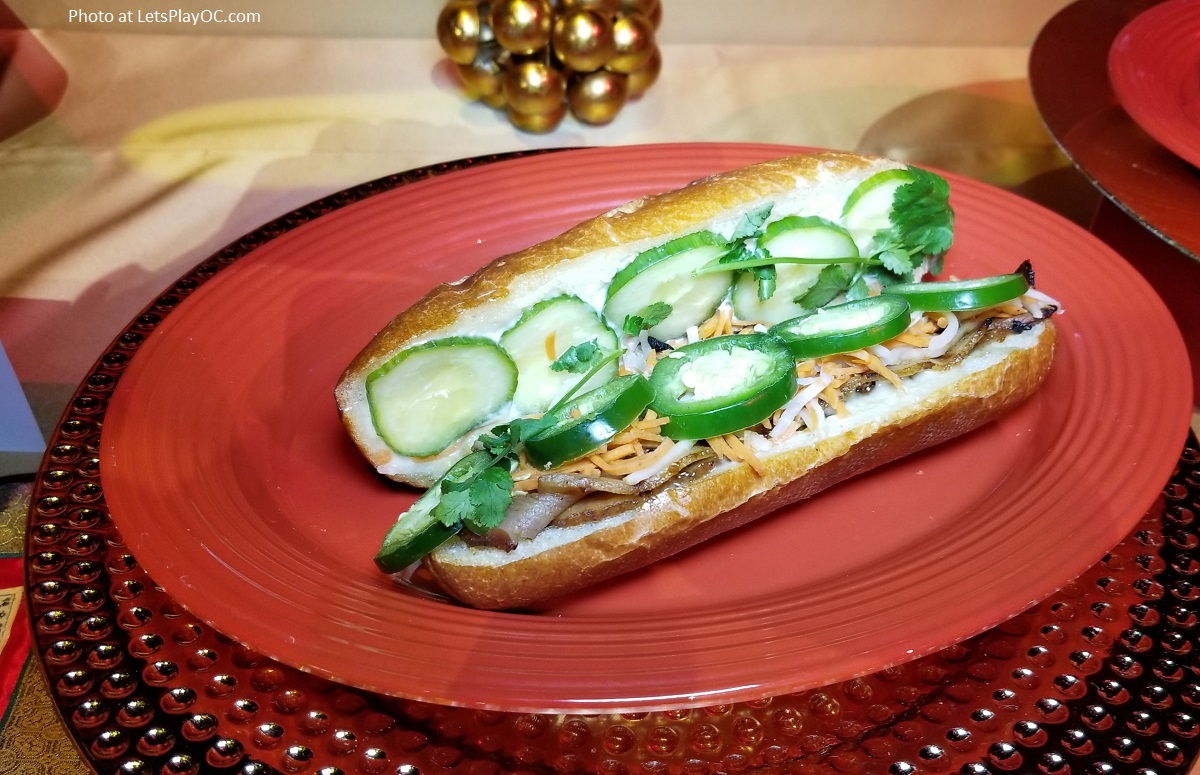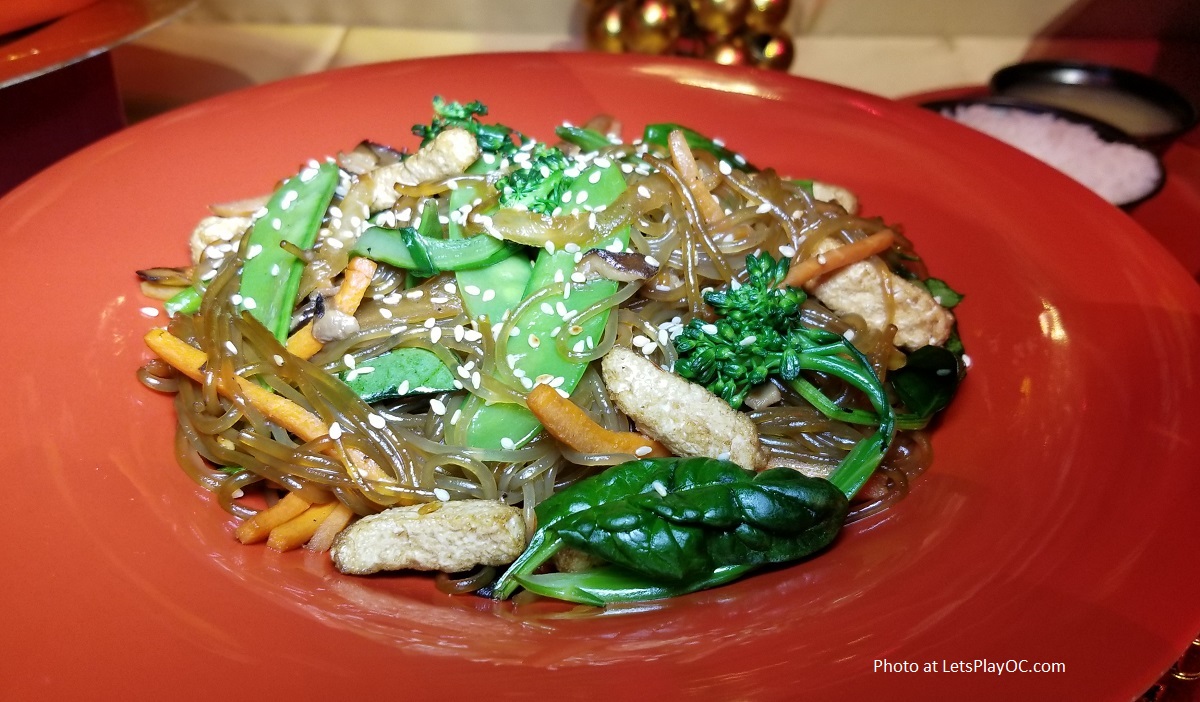 Preserving Traditions
Celebrating Lunar New Year has always been a big deal in my family, and we celebrate it every year. Although my parents and most of our relatives are out of state, we don't have to go very far to celebrate it locally here in Orange County. Visiting Disneyland is a great way to experience it without feeling homesick, because Disney added their own magic to it making it a special treat. Whether you are familiar with the cultures or willing to experience for the first time, they have chosen only the best of the best. My favorites are Mulan's Lunar New Year Procession (you can watch it below), trying all the different dishes and desserts, listening to authentic live musicians during dinner in Paradise Gardens, watching the theatrical drummers from Shanghai, meeting the characters in their ornate outfits, and the special feature before "World of Color" is like the icing on the cake. If you plan to check it out, the last day is February 18th at Disney California Adventure.
Commemorative Items:
Looking for keepsakes? There are specially designed t-shirts, a limited edition pin, magnet, Mickey Mouse plush, snow globes, and traditional red envelopes for gift-giving (3 for $10). For more information or to check the schedule, please visit their website here: www.Disneyland.com/LunarNewYear.